Daniel and Deanna (Cunningham) Gansebom 4.Generation
The oldest child of Vernon and Donna (Pederson) Gansebom is Daniel Howard. He was born March 21, 1951, at Plainview. Dan and his parents lived on the Otto Gansebom farm 4 1/2 miles east of Osmond on Highway 20 where Vernon farmed. They later moved to the former Reno Ordway farm, both now owned by Vernon. Dan has two sisters - Mrs. Randy (Diane) Lamprecht of Hornick, Ia., and Carole Gansebom of David City, Nebr. - and one brother - Wayne of Norfolk.
Dan attended rural school at District 19 East southwest of McLean until the fourth grade when he began his education at Osmond Community School from which he graduated in 1969. As a member of the high school band, he remembers very well the booster trips the band participeted in when Osmond celebrated its 75th anniversary. Dan joined the Army Reserve in January 1970, taking basic training at Fort Ord, Calif. When he returned home, he continued farming with his father on the family farm located 7 1/2 miles east of Osmond.
On Sep. 12, 1970, he was united in marriage to Deanna Sue Cunningham of Randolph, daughter of Earl and Grace (Paulsen) Cunningham. They were married at St. John's Lutheran Church in Randolph.
Deanna, born Dec. 29, 1951, at Sioux City, is the youngest of four children. She has three brothers - Gerald and Don of Laurel and Dean of Wausa. Deanna grew up on a farm near Wareborn, Nebr., four miles east of Randalph and moved into Randolph in 1968. She attended Randolph Public School all 13 years, graduating in 1970.
Dan and Deanna were blessed with two children - Chadwick Daniel, born July 22, 1971, and Kristin Lynn, born Feb. 22, 1974. Both were born of Osmond.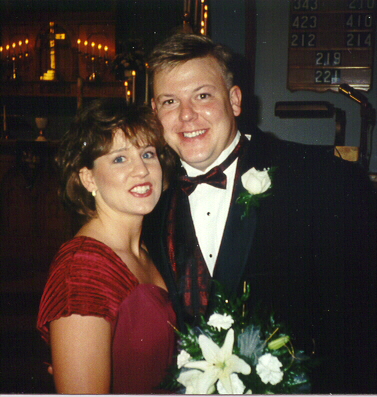 Chad attended Osmond Community School all 13 years, graduating in 1989. He was active in football all four years and was chosen all-conference his senior year. He attended Boys' State in 1988. He is currently a student at the University of South Dakoto in Vermillion, majoring in business.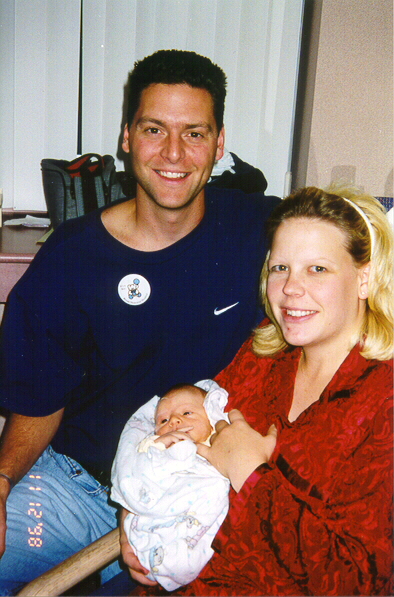 Kristin, a sophom ore, has received all of her education at Osmond Community School thus far. She is also very active, participating in volleyball, basketball, track, band and cheerleading.
The family's first home was on the Otto Gansebom farm east of Osmond (where Dan spent his early childhood). In 1979, they moved to their present home three miles south of McLean.
The Ganseboms are members of St. John's Lutheran Church in Randolph. They are thankful that their ancestors, among others, had the courage to come to the new land of opportunity. America has been a beautiful country in which to live.
Kent and Diane (Brunckhorst) Gansebom 4.Generation
Kent Gansebom, son of Everett and Helen Gansebom, was born in Osmond on Nov. 19, 1947. He attended rural school until the seventh grade when he entered Immanuel Lutheran School in Osmond. He graduated from Osmond High School in 1965. Kent received a bachelor of science degree from the University of Nebraska-Lincoln in 1970, majoring in agronomy and economics.
Kent married Diane Brunckhorst of Osmond on Dec. 29, 1968. Diane is the daughter of Henry and Betty Brunckhorst of Osmond. She graduated from Osmond High School in 1968.
Kent and Diane were blessed with three sons - Jason, born April 29, 1971, is a freshman at Dana College in Blair; Shawn, born April 27, 1972, is a senior at Osmond High School, and Patrick, born April 7, 1976, is in the eighth grade at Immanuel Lutheran School.
Kent returned to the family farm in 1971 and currently farms with his dad and two brothers, Randy and Clark. He also has a brother, Terry, who lives in Kansas City, Kans. Kent is an active member of Immanuel Lutheran Church and the Park Producers organization.
Diane has two sisters - Barbara Reineke of Osmond and Becky of Redondo Beach, Calif. - and one brother - Randall of Omaha. Diane is also an active member of Immanuel Lutheran Church.
The family currently resides on a farm west and south of Osmond, previously owned by Jesse Barnett in 1918. Vernon Craft then owned the farm in the 1930s and Everett Gansebom purchased it in 1941
Randy and Marcia (Clayton) Gansebom 4.Generation
Randy and I (Marcia) were married in April of 1973. We have two sons. Zachary is 11 years old and attends St. Mary's School. He enjoys baseboll, swimming, hunting and fishing. Gabriel is seven years old and also attends St. Mary's School. He enjoys sports and hunting and fishing.
Randy is the son of Everett and Helen (Gutz) Gansebom. He is a graduate of Osmond Community School and the University of Nebraska. He is involved in the family farm corporation, Gansebom Farms.
I am the daughter of Kenneth and Lucretia (Sis Theisen) Clayton. I graduated from Osmond Community School and Wayne State College. Before the boys were born, I served as third and fourth grade teacher of St. Mary's School for one year and as Title I teacher there for three years.
Our farm is located two miles south of Osmond on Highway 121 and 1 1/2 miles west. This land was homesteaded under President Grant by Clarissa Brown in 1871. - Marcia (Cloyton) Gansebom –
Clark and Ingrid (Craft) Gansebom 4.Generation
Clark R. Gansebom and Ingrid Craft were united in marriage on July 3, 1982, and have since lived in the Osmond area. They have one son, Tyler William, who was born on Oct. 28, 1987.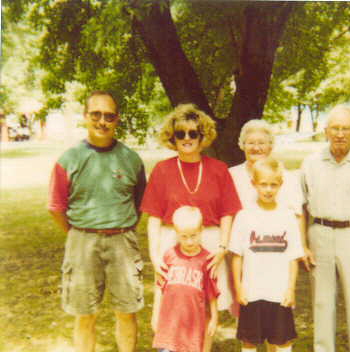 Clark was born of Osmond to Everett and Helen Gansebom on Feb. 27, 1954. He has three brothers Kent and Randy of Osmond and Terry of Konsas City, Kons. Clark attended elementary and high school in Osmond. He graduated from the University of Nebraska in Lincoln in 1976 with a bachelor of science degree in animal science, agronomy and ag economics. Clark has been involved with Gansebom Farms, lnc. since his graduation and is one of its original incorporators. He is presently serving as vice-president and manager of its cattle feeding and marketing operations.
Clark is a member of the Nebroska Cattleman's Association and a farmer stufe director. Clark is currently serving on the board of directors of Osmond Venture Resources.
Ingrid Craft was born on March 7, 1961, to Robert and Helga Craft of Foster. She has one brother Mark, who lives in Hadar.
Ingrid attended elementory and high school in Plainview. She graduated from Wayne State College in 1986 with a bachelor of science degree in business administration with emphasis in management and data processing. Ingrid has been employed of Lind-Gubbels, Inc. since July of 1988. She is a member of Osmond Woman's Club.
Ingrid has been involved in showing and breeding of Boxers since 1981 when she purchased her first Boxer. He was shown by Ingrid to a championship. Since then, Ingrid has been successful with the Boxer litters, breeding various champions and selling their pups throughout the Midwest and, most recently, to a home in Australia. Ingrid is a member of the Missouri Valley Boxer Club and American Boxer Club. She is currently in the process of selecting a Shih Tzu to show and breed in the future.
Clark, Ingrid and Tyler are members of Immanuel Lutheran Church. They enjoy living in the Osmond area. They enjoy all sports and are avid skiers.
Larry and Susan (Howord) Gansehom 4.Generation
Larry and Susan Gansebom are both the fourth generations of their families to make the Osmond community their home. Larry's parents are Marlin and Clarice Gansebom and his grandparents are Willie and Christina Gansebom. His greatgrandparents, William and Sophia Gansebom, first came to Osmond in 1893. Susan's parents are Dale and Verona Howard and her grandparents are John and Elsie Kumm. Her greatgrandparents were Herman and Wilhelmina Kumm who come to the Osmond area in 1902.
Larry was born on Oct. 7, 1961, and has two older sisters - Ruth and Lynette - and an older brother - Alan. All three ore now married and live on the West Coast. Larry attended Osmond Community School and graduated with the Class of 1979. He attended Northeast Technical Community College of Norfolk for one year, taking an agricultural course. Since then he has been farming in partnership with his father.
Susan was born on Dec. 8, 1961, and has two younger sisters - JoAnn, who is married to Bill Witt and lives of Creighton, and Anita, of home. Susan attended school of Osmond, graduating with the Class of 1980. She then attended Northeast Tech, receiving a diploma as an executive secretary in May 1981. That summer she started working of Big John Manufacturing Company in Osmond and is now office manager there.
Larry and Susan were married of Immanuel Lutheran Church on June 12, 1982. Since then they have lived in town with Larry driving to work on the farm and Susan working of the Big John firm. They enjoy outdoor activities, hunting, booting, fishing and camping.
Douglas and Cheryl (Backer) Gansebom 4.Generation
Douglas Dwaine, son of Dwaine and Betty (Albrecht) Gansebom, was born Aug. 29, 1955, of Norfolk. Doug joined two sisters - Linda and Cindy - of home and was followed by a brother - Dallas. They lived 7 3/4 miles southeast of Osmond until 1960. A move was then made to the present Dwaine Gansebom farm, 3 1/2 miles south of Osmond on Highway 121. In the next years one more sister - Ann - and two more brothers - Darin and David - arrived.
In 1960, Doug entered Osmond Community School for Kindergarten. He then attended Immanuel Lutheran School in grades one through eight and was confirmed of Immanuel Lutheran Church in 1969. Doug's high school years were spent of Osmond Community School where he was active in football, basketball and track. He was honored as homecoming king in his senior year. During these years, Doug and his family were involved in the dairy farming operation.
After graduating in 1973, Doug spent the next two years working in Lincoln. In 1975, Doug centered his attention on dairy farming which he does of present.
Doug was married to Cheryl (Backer) Munter at Immanuel Lutheran Church on April 2, 1982. They live 3 1/4 miles south of Osmond on Highway 121, just one-fourth mile from the home place which is handy for Doug's work. Doug and Cheryl's wedding day was quite memorable as a blizzard blew in that evening. Many of the guests, as well as the wedding party and families, were snowbound of the city hall all night. In the wee hours of the morning, Doug and Cheryl headed home on icy roads, only to be involved in an accident. No one was injured and the car could be driven, so they continued home. All went well until the morning light, when Doug awoke to do milking chores and discovered the garage had blown down in the storm. Luckily the car, what was left of it, was outside. After that adventure, life has gone rather smoothly for Doug and Cheryl.
Doug's family, besides wife Cheryl, includes stepson James Munter and Beau Douglas Gansebom born Aug. 20, 1984, of Osmond General Hospital. Doug is very busy in the dairy farming business with his parents and brothers Darin and David. Cheryl is at home with Beau, keeping up the home, yard and garden. She also tends more then 300 trees which they have planted during the years. The last two years have been dry, requiring more work for everyone; but, God willing, that is past.
James, born Nov. 7, 1969, at Osmond General Hospital, attended school in Norfolk through the sixth grade. He entered Osmond Community School for junior high and graduated there in 1988. He is presently a second year student at University of Nebraska-Lincoln, studying criminal justice.
Doug and Cheryl enjoy the company of their family and friends in their spare time. Until recently, Doug played softball. The couple enjoys bowling together during the winter. They are glad to be a part of the Osmond community.