Dwaine and Betty (Albrecht) Gansebom 3.Generation
Dwaine Gansebom, the eldest child of August and Emma (Dralle) Gansebom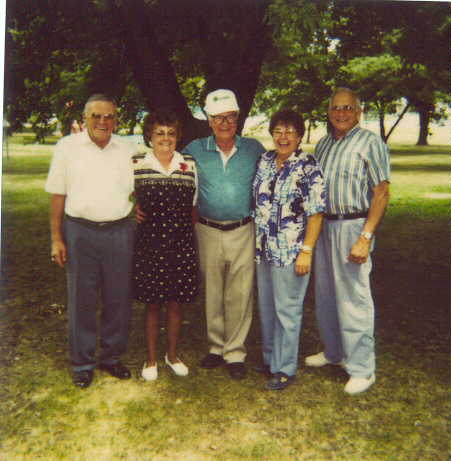 , was born April 29, 1925. His wife, the farmer Betty Albrecht, was born July 13,1928. She is the sixth child of Fred and Ingeborg (Nelson) Albrecht. Dwaine's parents and Betty's mother were born in America. When he was two years old, Betty's father come to America with his parents, William and Marie (Block) Albrecht, and his sister, Anna. They lived on Ellis Island a month, until they had a sponsor. Mr. and Mrs. Bill Uhlrich sponsored their settling in Pierce.
Dwaine's grandparents come from Holdenstedt, Province Hannover, Germany, in 1885 and settled of Osmond. They farmed 2 1/2 miles south of Osmond on the farm on which Delmer Gansebom now lives. Dwaine was born on this place and went to District 34 school six years, then to Immanuel Lutheran School two years. His high school years were spent of Osmond Public School, graduating in 1942. Dwaine entered the service in September 1943 and was discharged in March 1946, serving 18 months of that time overseas.
Betty was born on a farm two miles west and six south of Pierce. She went to District 33 school for eight years, then to Pierce High School, graduating in 1945. She taught country school District 33 for one year. After the school year, she worked as a dental assistant, first for Dr. Donovan, then for Dr. Schleppenbach.
Dwaine and Betty were married Dec. 21, 1947, of Immanuel Lutheran Church in Osmond. They farmed northwest of Pierce for 12 years and in 1960 moved to the Osmond area, just one mile south of the Gansebom homestead. They have been dairy farmers all their married life.
Seven children were born to the Ganseboms. Linda graduated from Osmond High in 1967. She married Mike Peters of Wausa and they have two sons - Troy and Jerry. Cindy graduated in 1970 and married a classmate, David Hoffman. The Hoffmans and their four children - Volerie, Terry, Corl and Cassie - live on the Hoffman family farm. Douglas graduated in 1973. He married Cheryl Munter. They have two children - James Munter and Beau Gansebom - and live across the road from the home place and are partners in the dairy operation. Dallas graduated in 1975 on 2d married Linda Bonebrake. They live in Norfolk and have two children - Dawn Bonebrake and Shone Gansebom. Linda operates Regency Studio and Dallas has worked of NuCor Steel since graduation from high school. Ann graduated in 1984. She married Steve Pint and, after working in Norfolk and Chicago, they are now living in Kansas City. Darin graduated in 1987. He is attending Northeast Community College. David graduated in 1988 and is currently employed on the family dairy farm.
Dwaine served on the school board eight years and was elected county commissioner in 1978. He has been chairman of the board nine out of 11 years and is presently chairman of the Northeast Nebraska County Officials organization. He has served 20 years on the Pierce County Fair Board and is active in the American Legion and VFW. The Ganseboms are members of Immanuel Lutheran Church.
Delmer and Joan (Brummond) Gansebom 3.Generation
Delmer Gansebom was born on May 25, 1930, to August and Emma Gansebom.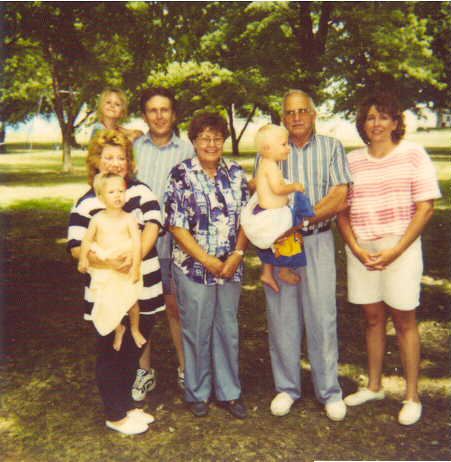 His parents lived on a farm homesteaded by August's father, William, in 1891. Delmer attended school in District 3.4 until he went to the Lutheran school in Osmond. He graduated from Osmond High School with the Class of 1947. He attended Wayne State College and taught school in Foster. In 1952, he left Osmond to serve in the U.S. Army. Upon completion of his service duty, he returned to Osmond and began farming with his father. He also taught part time at Immanuel Lutheran School. Delmer joined the Osmond American Legion Post and has served as adjutant and commander and also has been Pierce County Legion commander. He is still a member of the organization.
On Feb. 10, 1957, Delmer was united in marriage to Joan Brummond. They have lived in the Osmond community for 33 years. Both have been active in many community activities.
Joan, daughter of Ed and Frieda Brummond, was born on May 12, 1936, on a farm three miles east and one mile north of Osmond (the farmer Milford Wecker place). She was the third child in a family of five. She attended rural schools in the area, was graduated and confirmed at Immanuel Lutheran and then graduated from Osmond High School in 1954. After attending college at Wayne State, she taught in rural schools and is now third grade teacher at Osmond Community School.
The couple has four children. Timothy was born Sep. 6, 1961, and married Earleen Opfer on June 11, 1988. Both are music teachers, in Wauso and Coleridge, respectively. Lori, born Jan. 4, 1963, married Todd Neuhalfen on June 17, 1989. They live in Omaha where Lori teaches first grade at Peter Sarpy Elementary School. Thomas, born Nov. 29, 1965, is a diesel mechanic for Lutz, Inc. of Norfolk. Lisa, born Dec. 11, 1968, is a student nurse at University of Nebraska Medical Center. All four children attanded Immanuel Lutheran School and graduated from Osmond High School.
The Ganseboms are members of Immanuel Lutheran Church and are involved with church work.
Joan has taught Sunday School since she was 14 and has been a 4-H leader for 36 years. Delmer is a member of the Rural Fire District board and also serves on the ASCS committee, completing his ninth term.
Delmer enjoys working with a variety of ducks and geese, also many kinds of peafowl. He was instrumental in conducting the exotic bird sale held at Bloomfield, Nebr., and has held spring and fall sales for a number of years.
With the exception of the two years Delmer served in the U.S. Army, he has lived on the place his grandfather homesteaded, and it will be in the family 100 years in 1991.
Roy and Agnes (Dvorak) Gansebom 3.Generation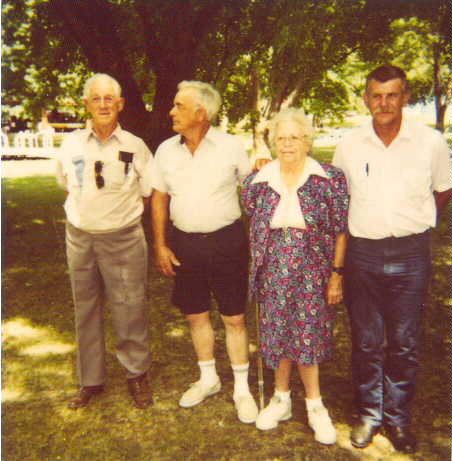 For more then 50 years, Roy and Agnes Gansebom have farmed in the Osmond area. The couple was married on Nov. 23,1937, at St. Mary's Church in Osmond.
Roy is the son of Otto and Ella (Krueger) Gansebom and was born on Feb. 4, 1915, on a farm located three miles east of Osmond.
Agnes (Dvorak) Gansebom is the daughter of John and Christina (Vyhlidal) Dvorak and was born northeast of Pierce on June 1, 1919.
Two children were born to Roy and Agnes. Patricia (Patty) married Roger Crandell and they live in Los Alamos, N.M. Robert (Bob) is married to the former Shelly Arehart and they live near Osmond. Roy and Agnes have six grandchildren.
Vernon and Donna (Pedersen) Gansebom 3.Generation
Vernon was born Jan. 16, 1924, on his parents' farm 4 1/2 miles east of Osmond on Highway 20. He is the third child of Otto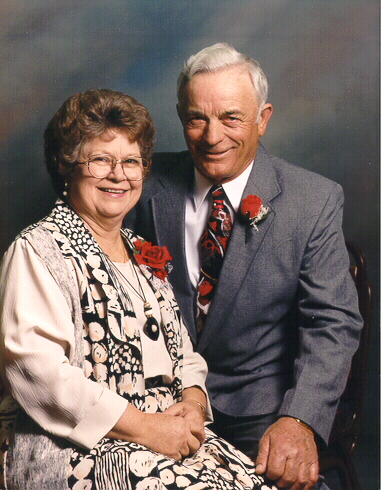 and Ella (Krueger) Gansebom. He attended District 19 East. In the eighth grade, he rode a horse to and from Immanuel Lutheran School in Osmond. After that he was able to attend high school by riding a bicycle. He graduated from Osmond High School in 1941. That summer he followed the harvest to North Dakota. In the fall, he enrolled in Lincoln Aeronautical Institute at Lincoln. After graduating, he took a bus to San Diego where he worked at Consolidated Aircraft, building B24s. In January of 1944, he entered the U.S. Army and served in the European Theatre until 1946. Upon returning home, he began farming on his parents' farm and has continued farming to the present time.
Donna was born on a farm southeast of Plainview on July 18, 1931, the second of three daughters of Alfred and Ida (Burger) Pedersen. She attended rural school District 17 and graduated from Plainview High School. She taught rural school for two years. The first year was the bad winter of 1948-49 when her school was closed for six weeks. During this time, emergency supplies were dropped by plane to needy farmers, and prospective mothers were brought to the hospital by Army "weasels."
Vernon and Donna were married June 1, 1950. They resided on his parents' farm east of Osmond until 1962 when they moved to a farm three miles south of McLean. In 1978, they built a new house and returned to the "home place" where they presently live.
They have four children - Dan, Diane, Carole and Wayne - and four grandchildren - Chad and Kristin, children of Dan and Deanna (Cunningham) Gansebom of McLean, and Jason and Jaclyn, children of Randy and Diane (Gansebom) Lamprecht of Hornick, Ia. Carole resides in Daivd City and Wayne lives in Norfolk.
Vernon is a grandson of the late William Gansebom, who immigrated to the United States in 1885. The Ganseboms have made several trips to Europe and have located the house where Vernon's grandfather was born in Holdenstedt, Germany. The house is in an excellent state of repair and is occupied by relatives of Vernon's distant cousins.
Vernon and Donna love to travel and have toured many European countries as well as most of the continental United States, Hawaii, Mexico and Canada. They are members of Immanuel Lutheran Church of Osmond and Vernon currently serves on the Wayne County Public Power District board.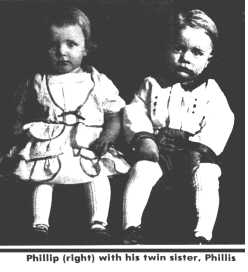 Phillip Gansebom 3.Generation
Phillip Gansebom was born at McLean on Aug. 29, 1928, the twin son of Otto and Ella (Krueger) Gansebom. Phillip's twin is Mrs. Don (Phillis) Netz. Phillip was baptiized in infancy by Rev. Eric Holstein at Immanuel Lutheran Church on Oct. 7, 1928, and received his education at rural school District 19 East and at Immanuel Lutheran School in Osmond. On April 4, 1944, he was confirmed in the Lutheran faith by Rev. Victor W. Hoffman of Trinity Evangelical Church in Fremont.
He was employed as a ranch hand by Thomas Brown of Hersbey, Nebr. Phillip died on Aug. 26, 1971. Funeral services were held on Aug. 30, 1971, of Immanuel Lutheran Church in Osmond with burial in the parish cemetery.
Â
Everett and Helen (Gutz) Gansebom 3.Generation
Both Everett and Helen (Gutz) Gansebom were born on farms a few miles south and southwest of Osmond. They have continued to be members of the Osmond community except for the four years Everett spent in the Army during World War II and Helen's employment in Storm Lake, Ia., before her marriage.
Everett is the son of the late Willie and Christine (Kube) Gansebom and Helen is the daughter of the late Amandus and Alvina (Pfanstiel) Gutz.
Everett married Helen Gutz on Sep. 8, 1946, at Immanuel Lutheran Church in Osmond. They are the parents of four sons - Kent, Randall, Clark and Terry. They have seven grand- children - also all boys.
Three of the Gansebom sons and families operate Gansebom Farms, lnc. south of Osmond. The other son, Terry, and his family reside in Kansas City, Kans., and he is employed by the Federal Reserve Bank in Kansas, City, Mo.
The Ganseboms are members of Immanuel Lutheran Church. Helen is a member of Immanuel Ladies'Aid. They have served on various boards and in offices in their community, county and church.
Everett and Helen received their education at District 34, a rural one-room elementary school, Immanuel Lutheran parochial school and Osmond High School. After their marriage, they operated a diversified grain and livestock farm. They sort of grew up with the times from two-row equipment and picking corn by hand to 12-row equipment, thousand busbel-an-hour combines, and from dryland farming to mostly pivot irrigation farmland.
The Ganseboms retired in 1982 and moved into a new home in Osmond. Their hobbies now are traveling, spoiling the grandchildren and helping out on the farm when needed.
Marlin and Clarice (Frevert) Gansebom 3.Generation
Marlin Gansebom lives two miles south of Osmond on the farm where he was born Oct. 11, 1926. The son of Willie and Christina (Kube) Gansebom, he has one brother - Everett - and two sisters - Edith and Faye. He received his early education at rural school District 34, attended Immanuel Lutheran School for grades seven and eight, and graduated from Osmond High School in 1943. After high school, he farmed with his father until he was drafted into the Army in 1945, serving with the occupational forces in Germany. After receiving his discharge, Marlin returned home to the farm. He was married to Clarice Frevert of Wausa at Golgotha Lutheran Church on April 13, 1952. New RomanTimesral school District 85 of Knox County for eight years and graduated from Bloomfield High School in 1947. After attending summer school at Wayne State College and passing the state teacher's exam, she taught of a rural school near her home for one year. She then continued her education at Wayne, after which she taught in the Norfolk Public Schcool system until her marriage.
The Ganseboms are the parents of four children - Ruth, Lynette, Alan and Larry. Ruth was born Aug. 5, 1953. She graduated from Osmond High School in 1971 and from the University of Nebraska in 1975. On June 28, 1975, she was married to Michael Bartunek. They now live on Bainbridge Island near Seattle and are the parents of two children - Jeffrey and Laura. Lynette was born Nov. 2, 1954, graduated from Osmond High in 1972 and from the University of Nebraska in 1976. She was accepted into the buyertrainee progrom at Macy's in Kansas City, becoming a buyer for Macy's and later for the Broadway stores in Colifornia. She was married to Robert Colletto on Dec. 26, 1982. They live in the Los Angeles area and have two sons - Matthew and Andrew. Alan was born March 12, 1956, and graduated from Osmond High School in 1974. He attended the University of Nebraska 2 1/2 years and later a helicopter flight and maintenance school in Denver. He married Lisa Orwig of Hartington on Nov. 4, 1978. They now live in California and are the parents of a daughter - Alison. Larry was born Oct. 7, 1961, graduated from Osmond High in 1979 and attended Northeast Technical Community College in Norfolk one year. Since then he has been farming with his father. On June 12, 1982, he was married to Susan Howard. They live in Osmond where Susan is employed at Big John Manufacturing Compony.
Marlin and Clarice are members of Immanuel Lutheran Church. Clarice has been church organist since shortly after her marriage. She has been a member of the Ladies'Aid since 1952 and is currently serving as president. She has been a member of Hillside Pals Extension Club since 1953 and in recent years has bowled in the women's league. Marlin has been a member of the American Legion and Veterans of Foreign Wars.