Otto and Ella (Krueger) Gansebom 2.Generation
The late Otto Henry Gansebom was born July 6, 1890, at Hadar.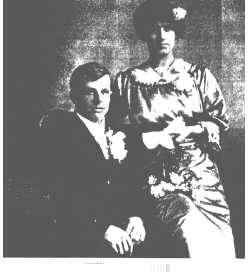 His parents were William and Sophia (Behrens) Gansebom. He received his education at District 34 in Pierce County and attended parochial school at Pierce.
On Aug. 3, 1891, Otto's parents purchased the present Delmer Gansebom farm from James E. Kellogg for $ 3.240. It is here that Otto grew up with his five brothers and sisters - Amanda, William, Ella, August and Rose.
When he was about 16 years old, a horse kicked Otto and seriously injured his leg. The leg was saved, but he was left with a painful, ulcerated bone which never completely healed throughout his life.
Ella Louise was the daughter of Henry and Amelia (Siedschlag) Krueger. She was born at Pierce on Aug. 26, 1893, and was one of five children. She grew up on the farm north of Pierce where she was born. This farm was purchosed from S. H. Dotson on Dec. 6, 1892, for $ 2.800. The farm is presently owned by her son, Vernon, and will be in the family 100 years in 1992. Ella received her education in rural and parochial schools in Pierce County.
Otto and Ella were married Feb. 23, 1912, of the Krueger home by Rev. Wilhelm Brueggeman. The Ganseboms resided at a farm 4 1/2 miles east of Osmond.
Five children were born to the Ganseboms - Roy and Vernon of Osmond, Hilda (Mrs. William Mohr) of Phoenix, Ariz., and twins Phillis (Mrs. Donald Netz) of Wausa and Phillip, deceased.
Ella spent the remainder of her life on the farm and died June 3, 1966, at age 72. Otto's last years were spent at Colonial Manor in Randolph. He died May 6, 1973, at the age of 82.
Otto and Ella were members of Immanuel Lutheran Church of Osmond. Their descendants include their five children, 10 grandchildren, 15 great-grandchildren and one great-greatgrandchild.
Willie and Christina (Kube) Gansebom 2.Generation
Wilhelm Chris -Bill- Gansebom spent almost his entire lifetime as a resident of the Osmond community. The son of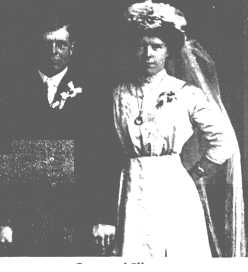 William and Sophia (Behrens) Gansebom, he was born at Hadar, Nebr., on April 5, 1893. During his infancy, his parents moved to the home place 2 1/2 miles south of Osmond, where the Delmer Ganseboms now live. Willie (also known as Bill) was baptized and confirmed at Pierce, attended rural school in Pierce County and parochial school in Pierce. He was the third of six children in the family. His brothers were Otto and August and his sisters were Amanda, Ella and Rose.
Christina Kube was born Jan. 19, 1898, of Norfolk, the daughter of Carl and Wilhelmine (Britt) Kube. Her parents came from Germany in the 1880s, were married in 1888 in Dodge County, and come to Pierce County in 1901. They lived about 10 miles west of Pierce. Christina attended school in Pierce County and, as a young woman, was baptized and confirmed in the Lutheran faith. There were 11 children in her family, several of whom died in infancy.
Willie and Christina were married Jan. 20, 1916, in Osmond with the Rev. Wilhelm Brueggemann officiating. After their marriage, the couple moved to the farm one mile north of the home place. Their first son, Everett, was born on Jan. 21, 1917; Edith was born March 12, 1920; Marlin on Oct. 11, 1926, and Faye on Dec. 5, 1929.
The Ganseboms were hard-working farm people. Before her marriage, Christina had worked as a hired girl. She worked both inside and outside the house on the farm. She was an accomplished seamstress, sewing many of the clothes for her family. Bill worked hard and provided well for his family. They built a new home on the farm in 1936, in spite of the Depression years. In 1952, they moved to a new home they built in Osmond, and their son, Marlin, and his wife, Clarice, took over the farming. Christina became ill shortly after the couple moved to town and she died on Aug. 14, 1956. Bill continued farming with Marlin until 1968, making almost daily trips to the farm. Bill died on Aug. 7, 1968.
The Ganseboms were longtime members of Immanuel Lutheran Church. Bill was active in church work, serving both as elder and officer.
Both of the Ganseboms' sons, Everett and Marlin, farmed many years south of Osmond. Marlin lives on the Willie Gansebom home place and is now farming with his son, Larry. Everett and his wife, Helen, are retired and live in Osmond. Edith is married to Al Geisler and has lived in the Detroit area since 1941. Faye married Don Wangstrom and lived in the Wausa community many years. They are now retired and live in Yankton. A niece, Phillis, also made her home with the Ganseboms for a number of years. She is married to Don Netz and lives near Wausa. The Ganseboms had 15 grandchildren, two of whom died in infancy. There are now 18 great- grandchildren, with only one having been born during Willie's and Christina's lifetimes.
August and Emma (Dralle) Gansebom 2.Generation
August was born on the "old home place" south of town on Oct. 6, 1894, to William and Sophia (Behrens) Gansebom. He is the fourth child in a family of six. His wife, the farmer Emma Dralle, was born Feb. 20, 1905, in Bancroft, Nebr., the daughter of Henry and Maria (Koehler) Dralle. She has 11 brothers and sisters. Emma came to the Osmond community to work in area homes as a hired girl.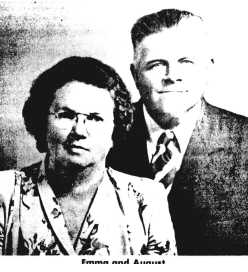 August and Emma were married June 25, 1924, in Bancroft. They had a double wedding with Emma's sister, Augusta, and her husband, Julius Streich, also of Osmond.
August lived his entire lifetime on the farm homesteaded by his parents in 1891. After his marriage, he brought his bride to the farm and they raised their family on the farm, located 2 1/2 miles south of Osmond on Highway 121. In 1957, they retired from the farm and bought a home in Osmond from Fred and Clora Jewell.
Seven children were born to the couple. Dwaine married Betty Albrecht and they farm south of Osmond. Lloyd married Marcella Bowling and they now reside in Norfolk. Kenneth married Susan Anderson. He is a music instructor at Howells, Nebr. Delmer married Joan Brummond. They live on the home place, having purchased it from Delmer's mother in 1968. LaVern married Keith Kenny and they live in Norfolk. Elnor married Donald Bingham and they own and operate farms in the Bloomfield area. One son, Norman, died in infancy.
August has one living sister, Mrs. Ed (Rose) Koebler of Wausa. Emma also has one living sister, Mrs. Joe (Louise) Ryzman of Denver.
August died of the age of 64 on June 18, 1959, and is buried in Hillcrest Memorial Park Cemetery of Norfolk.
Emma shared her home with her brother, Fred Dralle, for many years, until he becam a resident of Plainview Manor where he made his home until his death on April 3, 1983. Emma was a member of Immanuel Lutheran Church and Ladies'Aid as well as American Legion Auxillory. In 1985, because of failing health, Emma became a resident of Pierce Manor where she lived until her death on July 28, 1989. She is buried beside her husband of Norfolk.
Emma has 27 grandchildren and 28 great-grandchildren. Her six children survive as does her sister.